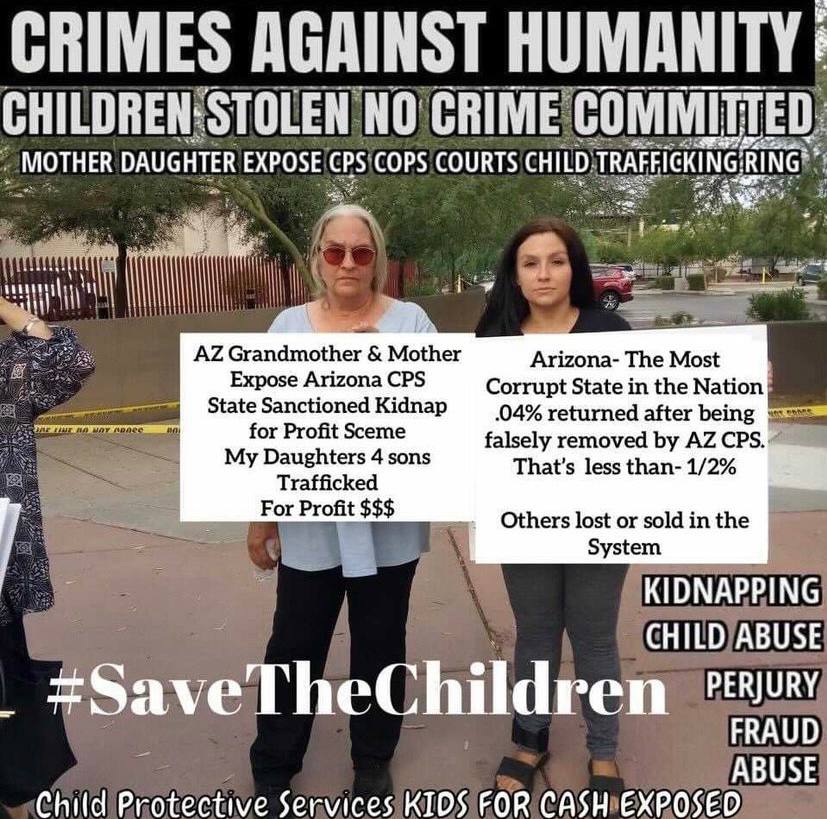 Sara Ybarra Johnson's story caught my attention. I sat down to speak with her via Telegram, below is our conversation. 
The Baked Cat: "Tell me about yourself?"
Sara Ybarra Johnson:   "My name is Sara Ybarra Johnson I am an American Whistleblower & Survivor in Arizona. Exposing Evil Gov. Officials & Agencies trafficking children through CPS & FOSTER CARE. This is Global, a One Well Oiled Machine designed to separate families & kidnap children for $$$, Pedophilia, Adrenochrome, Satanic rituals & Organ harvest."
The Baked Cat:  "Tell me about the dropbox you have set up.  What all can we expect to find?"
Sara Ybarra Johnson:  "In the dropbox there is a file, which includes exculpatory evidence of the unlawful kidnapping and forced adoptions of my four sons by Arizona's CPS. There is another file, which is comprised of 29 other Arizona families who had their children unlawfully seized and also placed into forced adoptions. In these files is evidence of medical malpractice, organ harvesting, and fraud and perjury committed by government officials/state actors. Nothing short of a state sanctioned human trafficking organization created by the state of Arizona."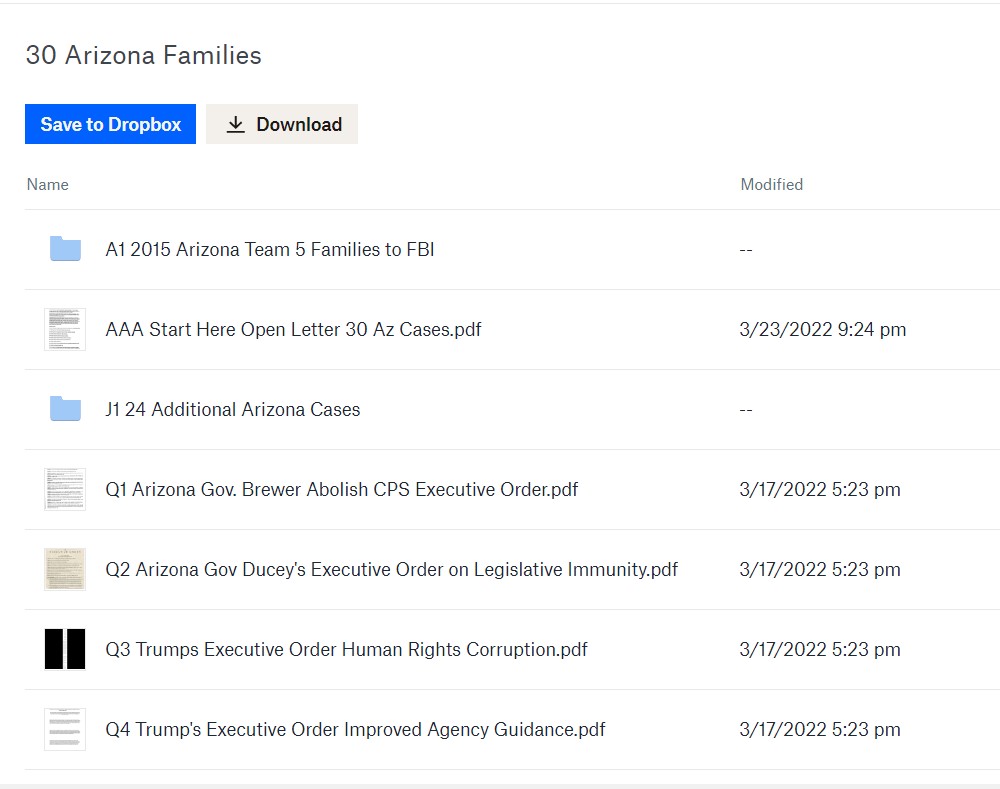 The Baked Cat:  "That goes pretty deep.  How far has your story reached?  Any important people have a look at your proof?"
Sara Ybarra Johnson:  "When Trump was in office, It was mailed & hand delivered to several of the White Hats. The very day that America went in lockdown for COVID-19, there was a face to face meeting set up by John Shattuck, a well known US NAVY SEAL with Mike Pence, Ivanka Trump & Connie Reguli The Tennessee lawyer. John Shattuck confirmed that these cases have been personally delivered in President Trump's hands. I have been fighting for all of my children since I was 18. I turn 33 years old this year in December 2022.
Timothy Charles Holmseth that works at The Pentagon did three individual articles on my case."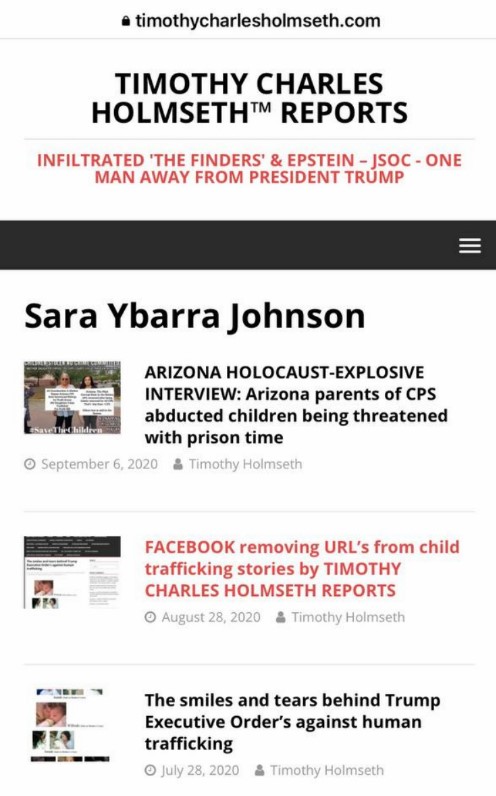 The Baked Cat: "Law enforcement has done nothing it appears.  I'm sure your kids love that you are a fighter.  Have you and your family been targeted?"
Sara Ybarra Johnson:  "Senator Kelly Townsend , David Farnsworth and Judy Burgess As well as several other representatives in the state of Arizona have had all of this evidence and turned a blind eye. Senator Kelly Townsend was threatened for helping my case, her tires were slashed and she had to carry a gun with her.
Phoenix police & sheriff deputies took part in the unlawful kidnapping of my 4 sons. They Conspired colluded and covered up these crimes. When my second son Wilfredo (Freddy) was born, the courts gave him to the father temporarily. The courts wanted me to willingly go and give up my rights to my son. I refused to do that! By me refusing , The Phoenix Police & CPS Surrounded our home & Treated us as if we murdered someone. There was no pick up order or warrant. In this link is actual Footage of it happening. https://youtu.be/Y29ftLHoRWM
Here is part 2 of the police & CPS at our door https://youtu.be/dRbp8dTfXiA"
The Baked Cat:  "Sounds like you really have the dirt on them.  This has been in the open for sometime now, you have been fighting for 13 years? "
Sara Ybarra Johnson:  "I have been Fighting for 13 years. Going through this horrible evil satanic battle for my children has really Opened up and took me and my family down a really really dark rabbit hole. At first we were just fighting to have my son's returned. As time went on & uncovering more this turned into an even bigger mission. A mission to make sure This never happens to another family ever again. I know that God Almighty my Jehovah Jireh my Jehovah Rapha has Allowed us to go through this battle to shine light on this darkness and to set the captives free. God has always been our shield and our rock in this whole battle. Going through this hard battle led me to God. God gets the Glory!! Without God we can do nothing."
The Baked Cat:  "How can people help you?  Do you have any resources available to help you in your fight?  Lastly what do you most want people to know?"
Sara Ybarra Johnson:  "Well in September 2021 My dog of 13 years passed away. She was my baby girl! She was always by my side every second of every day. Shortly after in October 2021 My mother had a heart attack and had to have a stent put in her heart. In the middle of October 2021 I got diagnosed With broken heart syndrome. Broken heart syndrome mimics a heart attack. I never knew some thing like this existed. My medical condition has limited me incredibly. I was cleaning several houses and overtime my health started deteriorating. My doctor told me to no longer work Because my heart cannot handle it. There was a few times that I almost fell down one of my clients stairs. I am in pain every single day. I have been on medication to prevent my heart from swelling. I do have a Cardiologist that has ordered CT scan on my chest. My health insurance keeps denying me from having it done.
This year we filed documents to go after 16 government agencies bonds. This includes Governor Doug Ducey, Attorney General Mark Brnovich, the FBI and risk management. As of now all of this evidence in the dropbox link is on all social media. I have tried reaching out to Lin Wood , Trey Gowdy, Rudy Giuliani, William Barr & John Durham for help.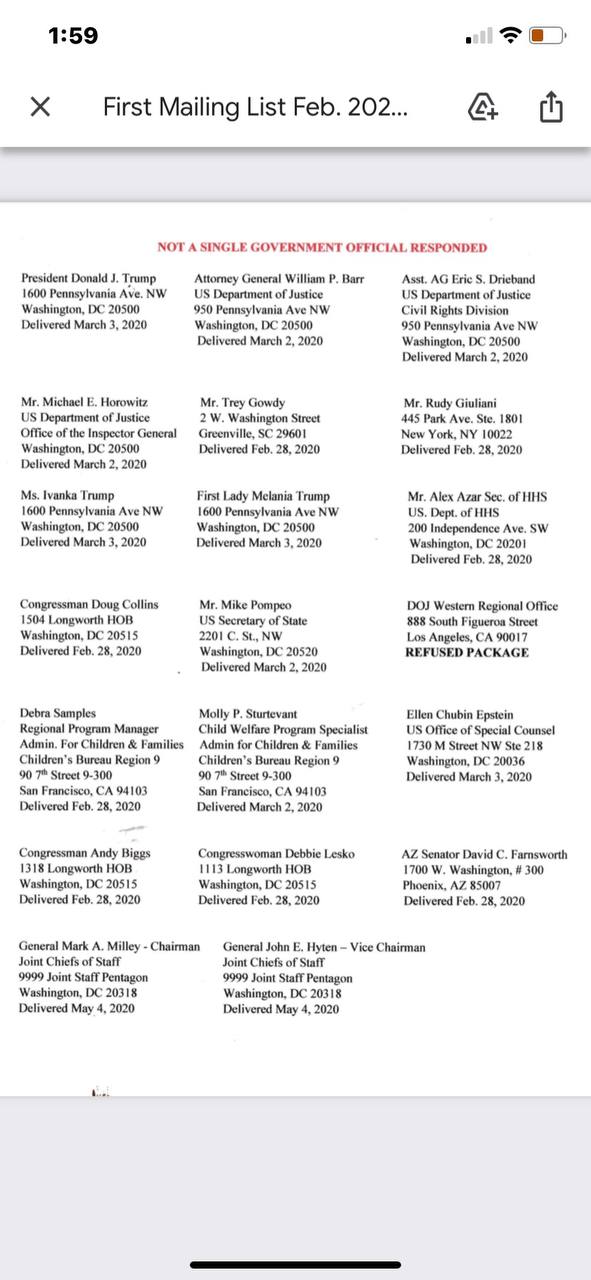 This was when Trump was in office. No one responded. When we sent the evidence to Durham, The mail room intercepted it and mailed the documents back to us. I write 45office.com all of the time. I constantly go on the white hats social media to get their attention but nothing happens. I created an account on TruthSocial and for posting the evidence my account was banned. So I created a new account on TruthSocial, my account is still up but they blocked me from posting the dropbox link full of evidence.
Wendy Rogers has had this evidence since last year. I spoke directly to her assistant & he said that it was on her Radar. I emailed this to Kari Lake & received an email back, Saying that she could not help me because she's not in office. We had a Face to face meeting with Project Veritas back in May 2022 & gave all of the evidence.
This is how sinister and deep my case goes. The lady that adopted my youngest son Jayden, her name is Stephanie Spencer Nixon. She is related to Mark Spencer who is an ex-Phoenix police officer and since 2012 to current works for Judicial watch/ Tom Fitton. Judicial watch and Tom Fitton have had all of this evidence, they to are guilty for covering up these crimes.
Do you want me to send you the list of names of every government official that's involved in taking my children?"
The Baked Cat:  "Sure i can add it." 168 CRIMINALS
Sara Ybarra Johnson:
 
The Baked Cat:  "What would you like the World to know?"
Sara Ybarra Johnson:  "My message to the world. This is a spiritual battle between God and Satan for the souls of Gods children. Satan comes to kill steal and destroy, but Jesus came to give us life and life more abundantly. Put God first in everything, Matthew 6:33 But seek first the kingdom of God and his righteousness, and all these things will be added to you. Remember Satan & The principalities and powers and rulers of darkness have to bow down to the name of Jesus. Jesus Christ defeated Satan when he shed his blood & was Crucified.
The enemy whether it's in the spirit or the enemy using human beings physically against God's children to silence us. Remember Proverbs 18:21 Death and life are in the power of the tongue: and they that love it shall eat the fruit thereof.
Speak out loud against this evil, whatever you're facing in life whether it's mental, emotional, physical & definitely spiritual. Speak IN THE NAME OF JESUS I BIND REBUKE AND RENDER POWERLESS ALL EVIL FROM ATTACKING ME & MY FAMILY. ISAIAH 54:17 SAYS No weapon that is formed against thee shall prosper; and every tongue that shall rise against thee in judgment thou shalt condemn. This is the heritage of the servants of the Lord, and their righteousness is of me, saith the Lord. Put on the Full Armor of God And cover every area of your life and your family even your homes your vehicles your finances in the blood of Jesus because Satan cannot cross that bloodline.
Remind the devil every day LUKE 10:19 Behold, I give unto you power to tread on serpents and scorpions, and over all the power of the enemy: and nothing shall by any means hurt you. Demons/Principalities have names!!! Here are some…… Baal, Moloch, (leviathan – Father of the children of Pride) Baphomet, Jezebel, witchcraft, fear doubt and unbelief, Hypocrisy, Deception, distraction, anxiety, lack, Oppression, Depression , trauma, lust, Anger, Pride & torment. The list goes on & on. God Almighty will never leave you nor forsake you. If it was not for God, Jesus and the Holy Spirit I would not have come this far. Keep your eyes on God & seek him always.
"
The Baked Cat:  "How can people help?
Sara Ybarra Johnson:  "I need the wonderful American Patriots to Get all of this evidence Brought into the light. For every eye to see & every ear to hear. Because the Truth sets you free. Take the dropbox link share it all over your social media platforms – talk about this on all podcasts. We need journalists and reporters to put this on National television.  The news to get involved & actually report it!!! I need the children of God Almighty to go into warfare against this evil.
These innocent children are sacrificed to Baal and Moloch."
You can help support Sara Ybarra Johnson, you can with the following link:  GiveSendGo
The Baked Cat:  "Thank you very much for your time. It was great speaking with you."
Sara Ybarra Johnson:  "God bless you my dear! I'm so grateful"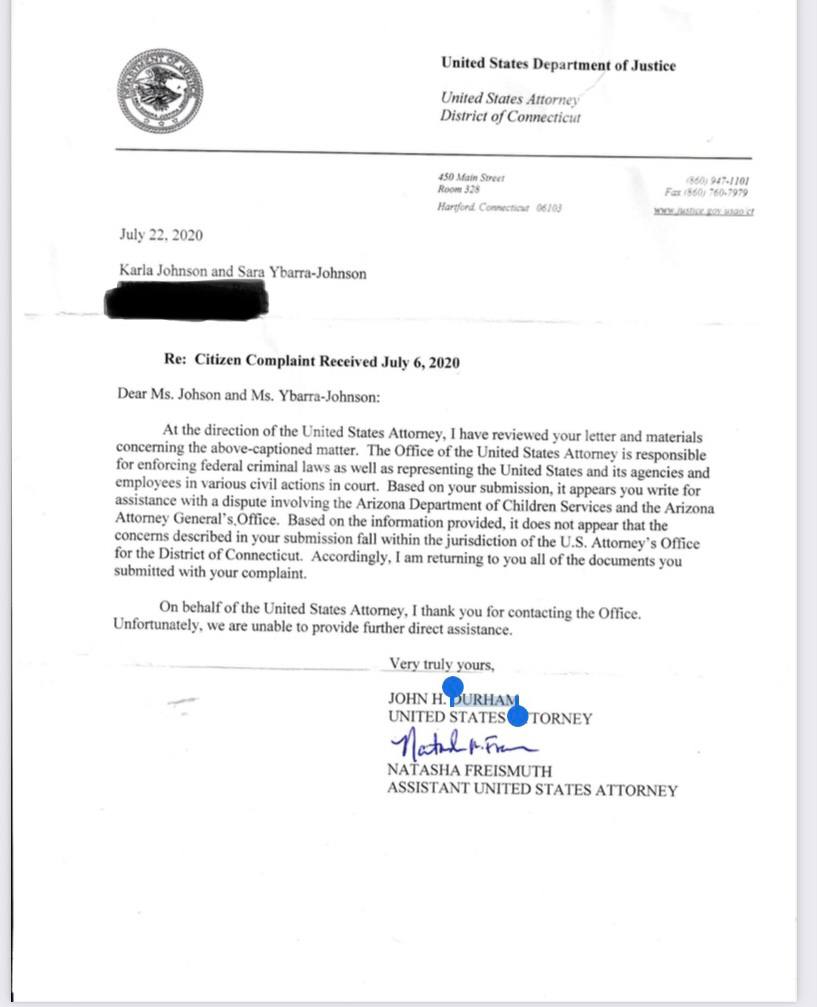 Videos By punchypunk