If you look at different civilizations, and the people who shaped those civilizations, it is rather easy to see which peoples have advanced themselves further.  Race is real, but racism only resides in the minds, and hearts of those with fears.
Example 1: Born in small town never seen different skin before.  Ignorance of differences creates fear.
Example 2:  You are black, applying for a job, but lets say you don't get the job.
Let us run with Example 2:
In reality it's not because you are black, it is because perhaps your attitude is straight shit, you are not qualified enough, or perhaps other applicants are even more qualified.
So let us say for sake of discussion you go home and tell your wife, "that cracker ass mother fucker was racist, that's why I didn't get the job."  Perhaps you told no one, but you thought it.  You are assuming racism exists when it does not.  You have a fear that you are not accepted because your skin is black.  It does not matter the color of your skin, everybody can have these thoughts.  The point is, until you stop being the victim, it's only going to continue.
You see, some folks are mighty proud of who they are.  That is not bad, in any way.  These people live each day, doing all they can to set the best example possible for their people.  Family, friends, community, you name it.  They don't give a shit about anyone else's skin color, instead they take pride in who they are as a 'people' and look to represent their people in the best way possible.  No one is perfect, so they don't always do the best job.
Bad Examples:  Black Lives Matter, AntiFa-ggots, National Socialists, Communists, and the fucking KKK. (Mostly all of which are left-wing extremist funded groups.)
So to further my point, we are going to look at crime statistics.  And afterwards I want you to ask yourself, if racism is so real among white people, why the fuck do these numbers point the opposite?
Lastly some thoughts to think about:
If all men are created equal why does a 'victim' group cry "white supremacy"?  Wouldn't that basically be admitting that whites are superior?  If you are admitting whites are superior, should whites just stop being themselves, and start being 3rd world country retards ruled by radical ideology?  Or. . .  should said 'victim' group, look at what the fuck they are doing to destroy their people (drugs, gangs, crime, etc.)  Vs. push blame, and continue onward with this 'racism' in America?
Now lets look at statistics.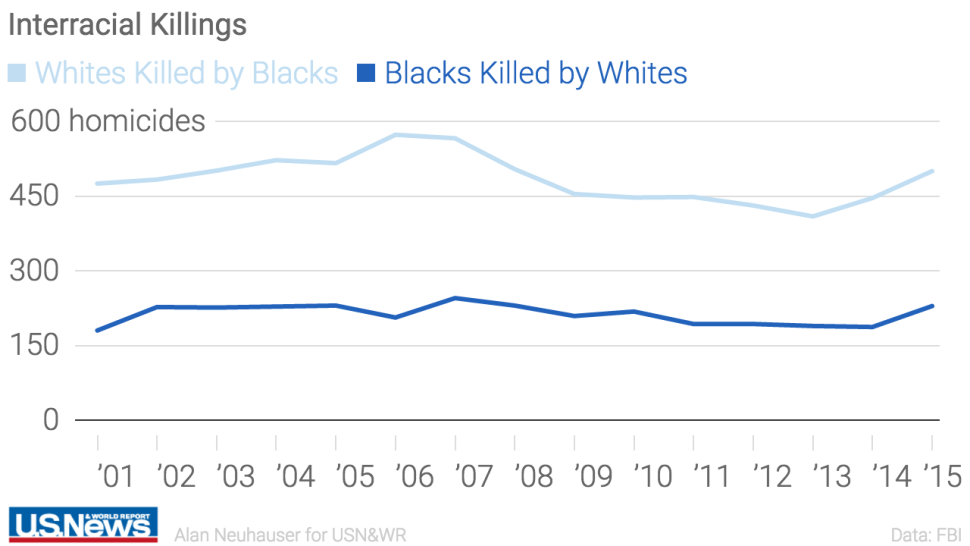 "Among the roughly 6,000 cases in which the race of the victim and the offender were known, the number of blacks killed by blacks rose to 2,380 last year, an increase of about 8 percent from 2014.
However, the share of black-on-black homicides as a proportion of black people killed actually fell by just under 1 percentage point, to 89.3 percent. This undoubtedly fractional decrease – which marked the third straight year of incremental reductions – still meant that for the first time since the start of the 21st century, the percentage of black victims killed by another black person stood below 90 percent of the total of black people killed.
Often less discussed – to the consternation of experts and columnists – is the phenomenon of white-on-white homicides. The number of white people killed by other whites rose 3.5 percent to 2,574 victims in 2015.
White-on-white killings as a percentage of all homicides involving a white victim also fell, to 81.3 percent, marking the lowest share of such killings since 2001.
The margins are small, fluctuating by less than 3 percentage points in the last 15 years: Since 2001, the share of black-on-black and white-on-white homicides as a proportion of those killed of each race peaked at 91.9 and 84.2 percent, respectively."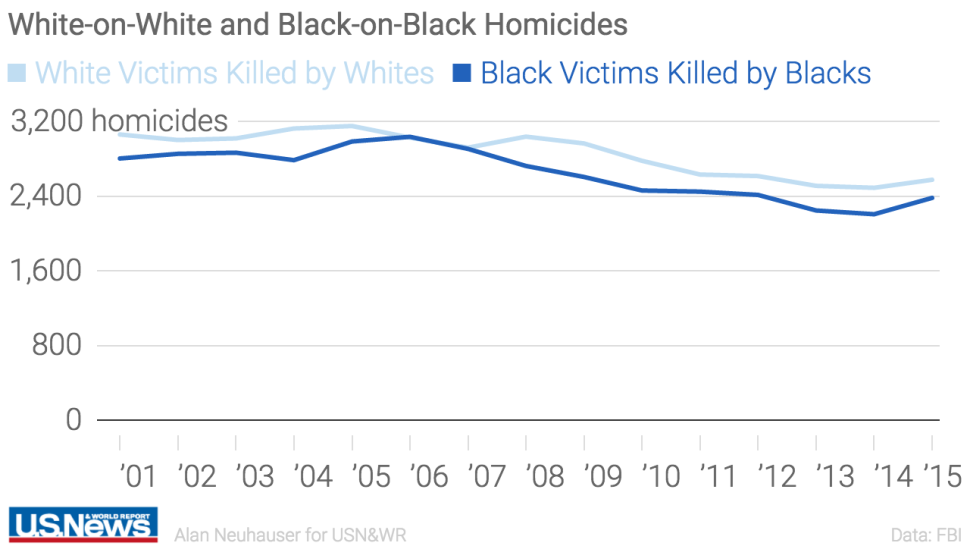 Crime knows no skin color.  In fact, it often prefers to know it's victims.  So rather than continue on this failed path of victim-hood.  Everyone should be looking at ways to bring their people together vs. tearing each other apart.  This destruction is what (((they))) want. Fuck (((them))).